A new arts and entertainment center to be built on the parking lot of Joplin's Memorial Hall is being billed as a way to breathe life into the downtown area and bring additional people and activities to the city.
Officials with Connect2Culture and Spiva Center for the Arts on Friday announced details of the Harry M. Cornell Arts and Entertainment Complex, which will serve as a home for the two nonprofits and offer indoor and outdoor space for a variety of programming. It is named for the former president and CEO of Leggett & Platt Inc., whose $5 million lead gift to the project was announced last December.
"The vision of the center is to educate, enlighten and entertain while attracting more people and activities to downtown Joplin," said Sharon Beshore, chair of the board of directors for Connect2Culture. "We believe the center will enrich the heart of our city and inspire people to live, work, play and stay in Joplin."
The complex will include:
• A 46,000-square-foot building to house Spiva Center for the Arts and Connect2Culture.
• A 450-seat indoor multipurpose performance hall with flexible seating options and state-of-the-art sound and lighting systems.
• An outdoor festival plaza with a covered stage, canopy area and seating for up to 1,500 people.
• A 2,200-square-foot rooftop terrace.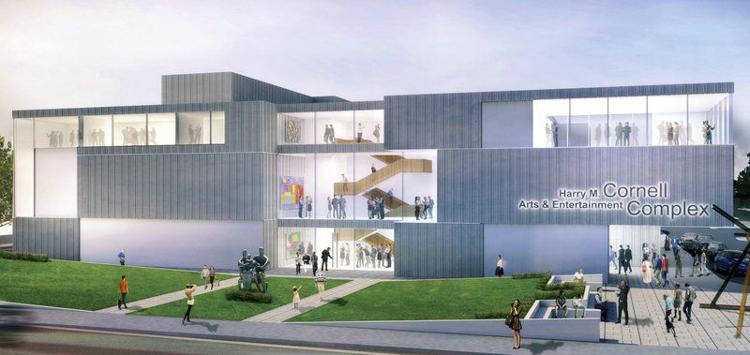 'A destination'
Clifford Wert, president and chief financial officer of Connect2Culture, said events to be scheduled at the facility could include community and touring performances, film screenings, lectures, concerts, plays and film festivals.
"This is a multifunctional, multiversatile (arts and entertainment center) for our Joplin community," he said. "It will be a destination for people to come to."
The building also would allow Spiva Center for the Arts to increase its capacity for education, outreach and national museum quality exhibits, said Josie Mai, the art museum's executive director. She said the current Spiva location, inside the historic Cosgrove Building, does not meet national American Alliance of Museum standards necessary to host certain types of touring exhibits, including those that require a loading dock and a climate-controlled storage space for exhibits upon arrival and departure.
In the Cornell Complex, "we could do a Smithsonian show or get shows from the Springfield Art Museum," she said. "I can't wait to have the flexibility of movable walls."
Parking for the complex has been a concern of community members who wondered where event attendees would leave their vehicles if the parking lot of Memorial Hall was repurposed. But Wert said 932 parking spots — some in public lots, some in private lots — exist within approximately 600 feet of the building, and Connect2Culture has "letters of support" from property owners for public use of the private lots during non-business hours.
Ryan Stanley, a Joplin councilman who attended Friday's news conference, also pointed in an artist's rendering of the complex to a row of parking along Eighth Street adjacent to Memorial Hall, which will remain the responsibility of the city of Joplin.
"I appreciate you putting in parking on the south end for access to Memorial Hall," he said.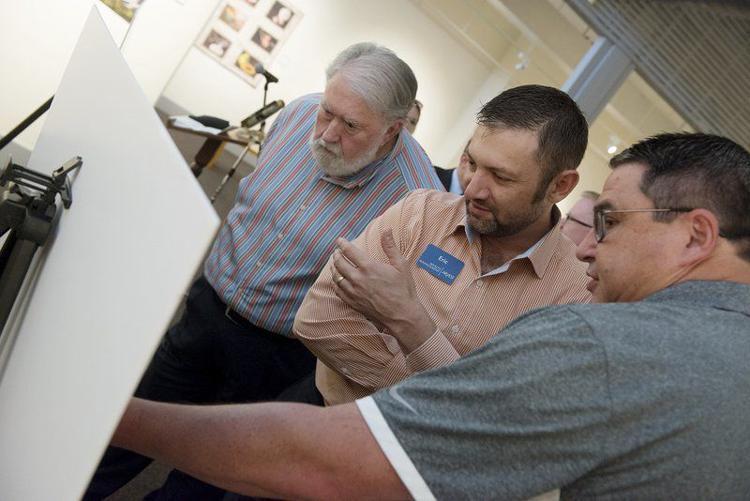 Fundraising campaign
Beshore said the complex has been redesigned from the project's initial planning stages, and the total cost has been revised from $23 million to between $14 million and $16 million. Its construction will be completely privately funded through donations.
As a result, Friday's announcement kicked off a public fundraising campaign for the project. A memorandum of understanding between Connect2Culture and the city of Joplin requires that the nonprofit provide "sufficient financial commitments" of at least $14 million by Nov. 30.
Nearly $8.6 million has already been given privately by six entities, including individuals and businesses who will be named at a later date, as of May 18, Wert said. Those gifts include the reservation of naming rights for the complex's performance hall and the main Spiva gallery, he said. Numerous opportunities for donations, including naming rights, still exist, he said.
"We will be pursuing all possible donors between today and Nov. 30," he said.
If the fundraising goal is met by November, the city will donate the Memorial Hall parking lot for the project, per the memorandum of understanding. And if all else goes according to plan, construction of the complex would be finished by spring 2021, with a grand opening following in the fall.
Once the complex is complete, it will be owned by a newly created nonprofit that has yet to be named, Wert said. This nonprofit's board of directors will consist of equal representation from Connect2Culture, Spiva Center for the Arts and independent individuals.
Connect2Culture and Spiva will continue to be responsible for operations and related costs. The two groups, along with the Harry M. Cornell Jr. Charitable Lead Unitrust, "will be responsible for annually injecting cash resources to maintain (the) long-term integrity of depreciable assets within the Cornell Complex," according to information from Connect2Culture.